By: Jennifer A Dlouhy
For years, the mighty wind blowing off the Massachusetts coast has beckoned developers with visions of clean, emission-free electricity. The latest to be seduced, Vineyard Wind LLC, aims to install 84 Statute of Liberty-size turbines about 15 miles off the state's shoreline, which would together generate enough electricity to power 400,000 homes as soon as 2022.
The project hit a snag in August, when the U.S. Department of the Interior ordered additional analysis of how the wind farm—and potentially 14 others that have been granted leases across almost 1.7 million acres of Atlantic waters—would affect the $1.4 billion fishing industry along the Eastern seaboard. U.S. regulators had sought to fast-track Vineyard Wind and could still sign off on the project by their self-imposed deadline in March, but the additional review is a blow to the companies behind Vineyard Wind, Avangrid Inc. and Copenhagen Infrastructure Partners, which had hoped to begin construction this year.
The review also spooked the budding U.S. offshore wind industry, which has long struggled in the shadow of a previous high-profile failure, Cape Wind. That project was once the vanguard of American clean energy, but it collapsed in 2017, after a 16-year battle with the likes of the Kennedy family and billionaire industrialist Bill Koch over its location in the Nantucket Sound, just 5 miles from shore. Since then the opposition has only gotten more sophisticated, as would-be wind power developers must now debate with everyone from fishermen to the military over use of coastal waters. "There are a lot of battles that have to be fought to bring a project online, and a loss of a single battle can be the end of it," says Timothy Fox, a vice president with the Washington research firm ClearView Energy Partners. "You have to win all of them."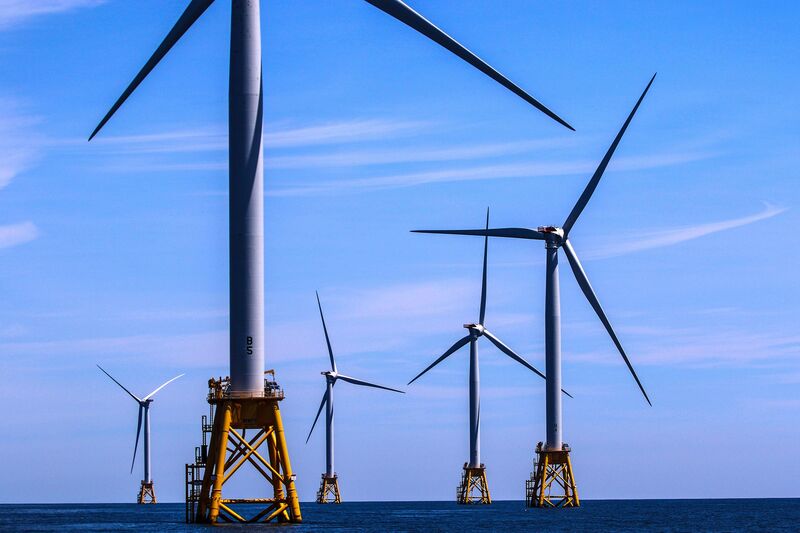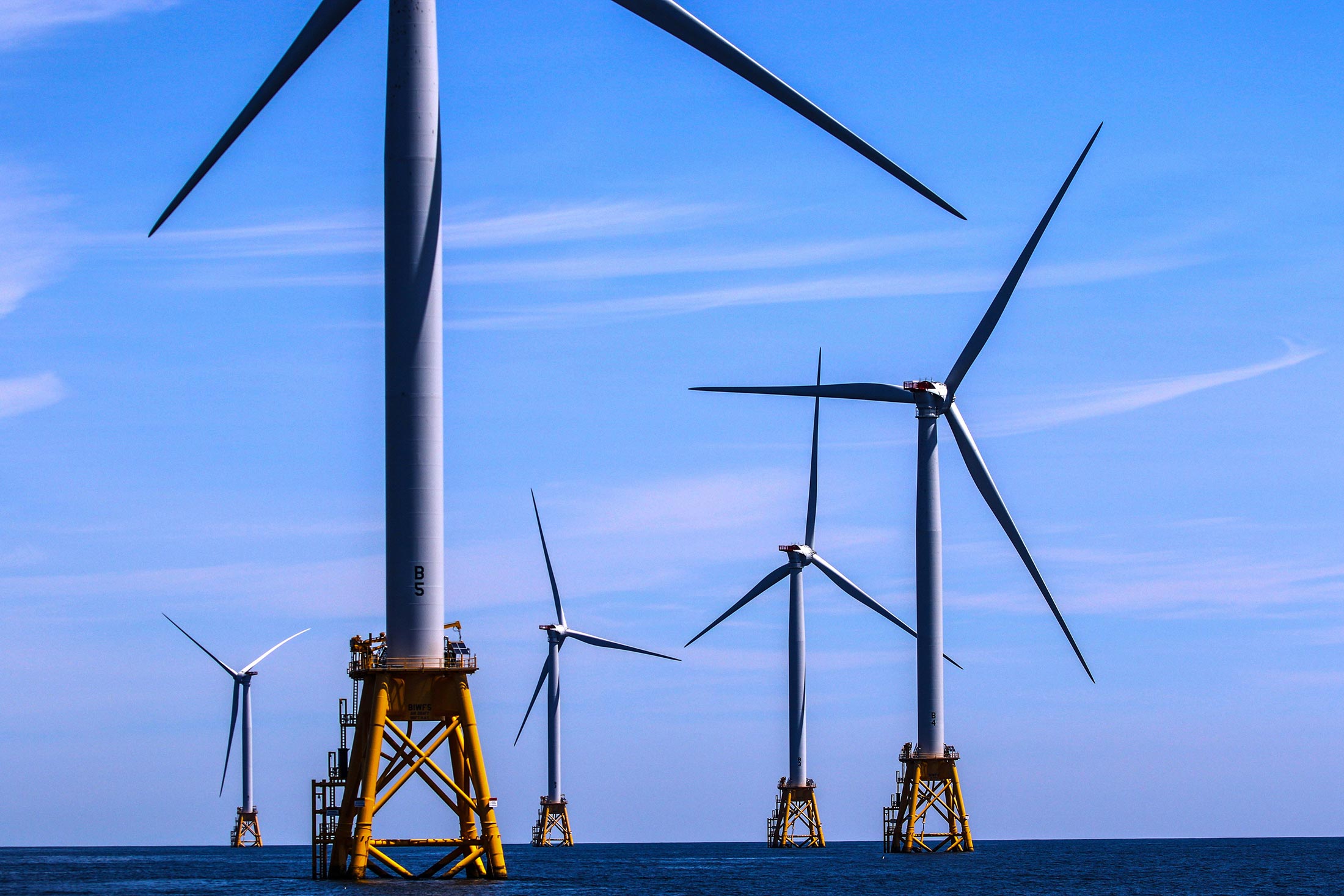 While the U.S. is second only to China in onshore wind power capacity—which is neither as reliable nor as efficient as offshore, but a lot cheaper to build—it lags behind China, Germany, the U.K., and other countries in taking advantage of the stronger, steadier gusts at sea. Despite the federal push to get projects off the ground, so far there's just one offshore wind farm in the U.S.: a small, 30-megawatt facility in state waters near Block Island, R.I., that went online in 2016.
What Europe lacks in real estate, it made up for decades ago by setting ambitious clean-energy goals and subsidizing the large offshore installations that would be necessary to satisfy them. "The European governments footed the bill for the expensive projects early on, and now prices have come down so quickly, it's opened the doors to new markets," says Tom Harries, a senior associate with BloombergNEF. Offshore wind is still more expensive than its onshore competition, but prices are plunging globally. Rates for unsubsidized offshore wind power fell 64% from 2012 to 2018, reaching a global average of $89 per megawatt hour, according to BloombergNEF. Vineyard Wind won a contract to sell power to three Massachusetts utilities for $65 per MWh, which is still more costly than the average wholesale power price of $44 per MWh in New England last year. But offshore wind can also be a buffer against winter energy price spikes, as wind speeds tend to be higher during the colder months.
Enthusiasm for offshore wind development in the U.S. has surged in the Northeast alongside concern about climate change. States with dense cities and big energy demands now jockey to make ever-larger commitments to purchase offshore wind power from coastal projects that are still in the planning stages—a clamor that was absent when Cape Wind developers sought leases from the federal government in 2001. The Interior Department is reviewing construction plans for 5 of the 15 offshore wind leases it's already sold, while also working to auction more leases near New York and California.
Why that hasn't translated to new capacity comes down to conflicting interests, many of them with the health of the environment at heart. Offshore wind ventures must survive rigorous environmental reviews after they secure federal leases and before they can be granted construction permits. Even then, turbines and the undersea cables that send their power to shore require additional state and local authorizations. "There are so many points that a stakeholder can raise their hand and say, 'I have a concern,' and it pauses the process," says Liz Burdock, president of the Business Network for Offshore Wind, which is dedicated to supporting the buildout. "Until these things have actual steel going in the water, the stakeholders will be heard."
State goals provide a clear market for developers, but they do nothing to resolve the development hurdles facing each of these projects, nor the determined opposition from powerful opponents. Vineyard Wind is a perfect case study: Burned by Cape Wind's collapse, developers and regulators have pushed leases farther offshore. The move solved one problem by putting the turbines outside the view of coastal residents, but it also placed them squarely in the middle of prized fishing territory and closer to commercial vessel routes. The companies have already shifted some planned construction in response to concerns, but fishing interests say the towers are still too close together and would be oriented against currents, preventing vessels from flowing with them and potentially ensnaring gear that can trail as much as 500 feet. And while subsea foundations can become rich habitats for mussels, their tendency to eat scallop larvae could lower the potential catch. The delay means developers might not be able to take full advantage of a federal tax credit.
Former President Barack Obama tried to jump-start offshore wind development by shifting environmental reviews later in the process and allowing companies to define their own leases. But the streamlining may not have had the intended result. Commercial fishing groups, for instance, have gone to court to battle a wind energy lease south of Long Island, arguing that the government cut corners on legally required environmental analysis before selling it for $42.5 million to Equinor in 2016. Although a federal district court upheld Equinor's lease last year, the project's opponents are likely to appeal.
New obstacles keep surfacing. The Pentagon has raised objections to wind turbines off the coast of Southern California, with the Navy warning that they could interfere with training missions. Environmentalists, including the Natural Resources Defense Council, have outlined a suite of measures necessary to protect the endangered North American right whale, which migrates through planned offshore wind fields. And lawmakers in Congress recently advanced proposals to block wind projects in coastal transportation corridors that threaten to intrude on existing leases and mandate yearlong U.S. Department of Defense studies of how offshore wind could affect military sonar.
President Donald Trump, too, has been a vocal critic of offshore wind. Long before he moved into the White House, he fought a proposed wind farm off the coast of Scotland, within view of one of his golf courses. As president, he's launched repeated attacks on wind power, suggesting turbines can "destroy" home values, cause cancer, and " kill all the birds." It's not clear that his views are affecting individual wind power decisions, but they may limit political appointees' ability to support projects when agencies clash over their impacts.
Despite all that, analysts predict the U.S. will swiftly catch up with foreign competitors. According to BloombergNEF, even with additional Vineyard Wind scrutiny, the U.S. is on track to become fourth in offshore wind capacity by 2030. The rapid buildout is beyond what anyone expected when Cape Wind was struggling earlier this decade. "There is a gold rush mentality in this right now," says Drew Minkiewicz, an attorney with the Fisheries Survival Fund, which has battled Equinor's Empire Wind project. "We're not saying no. We're just saying, can we please be wise and realistic in what we are going to develop?"
The Interior Department's additional environmental scrutiny is critical, Minkiewicz says. Had the government approved Vineyard Wind without deeper analysis of fishing impacts, its opponents would have won an easy victory against it in court. "I get that it's a renewable energy project, and I get that people are excited about it," he says, "but would you allow a nuclear reactor or a coal plant to write its own environmental impact statement?"
https://www.bloomberg.com/news/articles/2019-10-01/why-it-s-so-hard-to-build-offshore-wind-farms-in-the-u-s